How to use or install Birdhouse on your iPad
While we don't offer an iPad app (yet!), you can still use Birdhouse on your iPad. Whether you own an iPad in place of a computer, prefer the portability it offers, have an iPad but not a smartphone, or simply prefer to be able to use Birdhouse from more than one device, we've got you covered.

There are two ways to use Birdhouse on your iPad.

1. Access Birdhouse via your iPad's web browser.

The first way is simply to access Birdhouse via your preferred web browser. For many of you this will be Safari, but Google Chrome also works quite nicely for this. However, due to the smaller screen size of an iPad compared to that of a laptop or external monitor, Birdhouse may appear a bit on the cramped side. Landscape orientation provides the best usability. Here's how it looks on an iPad Mini.




2. Download the iPhone app to your iPad.

The second way is to download the Birdhouse for Autism iPhone app to your iPad. Not many people know about this little trick, but Apple makes it possible to not only download iPhone apps to an iPad, but double their size so they take up most of the screen (otherwise they look only as big as an iPhone screen in the middle of a big iPad screen).

Here's how to do it.

Step 1: Launch the app store and search Birdhouse for Autism. The search results screen will display "No results". Tap the text at the top left in the navigation menu that says "iPad Only".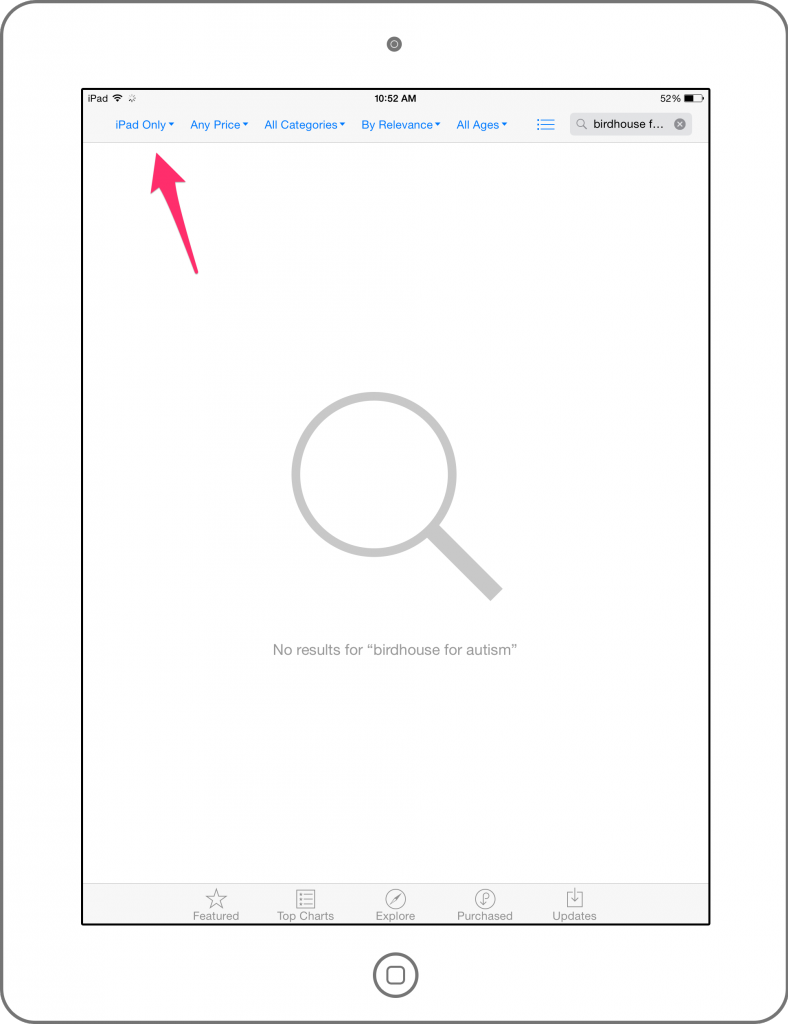 Step 2:
Once you tap "iPad Only", a menu will drop down with two options. Choose "iPhone Only".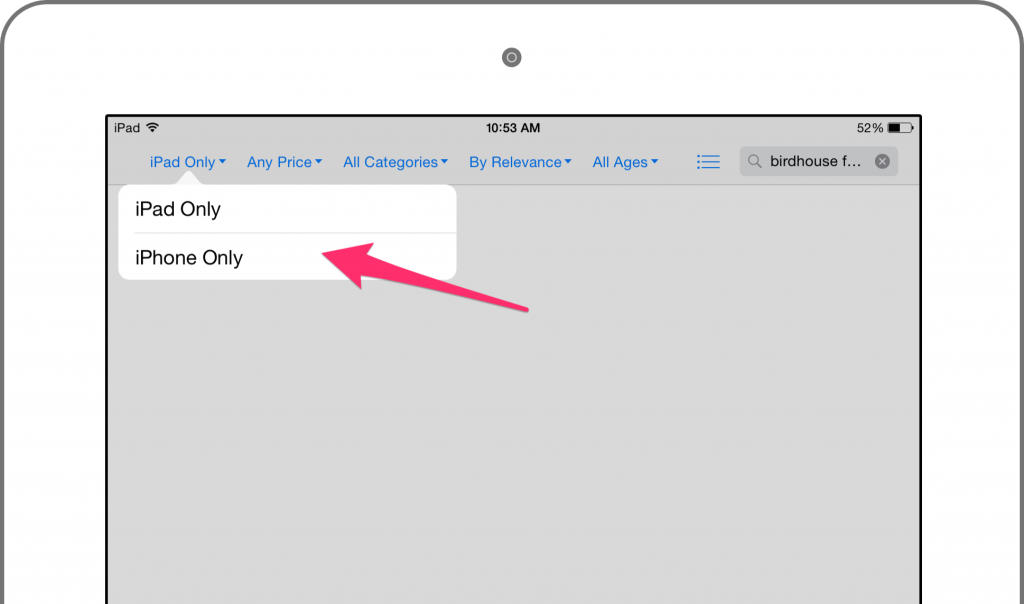 Step 3: Once you choose "iPhone Only", you'll see the Birdhouse for Autism iPhone app available to download. Tap the download icon.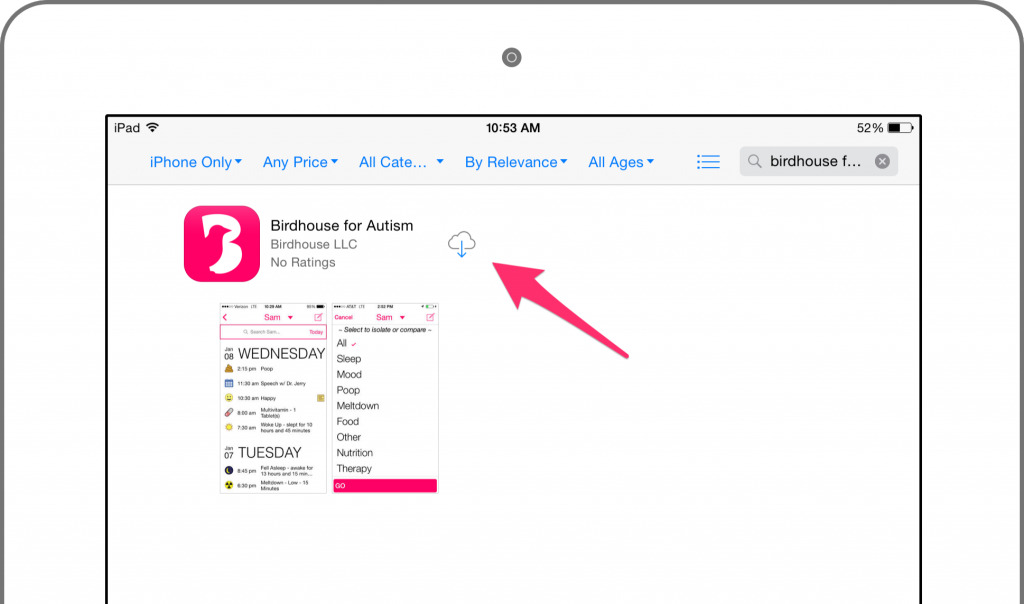 Step 4: After you download and launch the app, you'll see it in its standard size. It'll appear quite small on an iPad screen (it's an iPhone app, after all!). If you prefer, you can tap the "2X" icon in the upper right corner to enlarge the app to maximum size.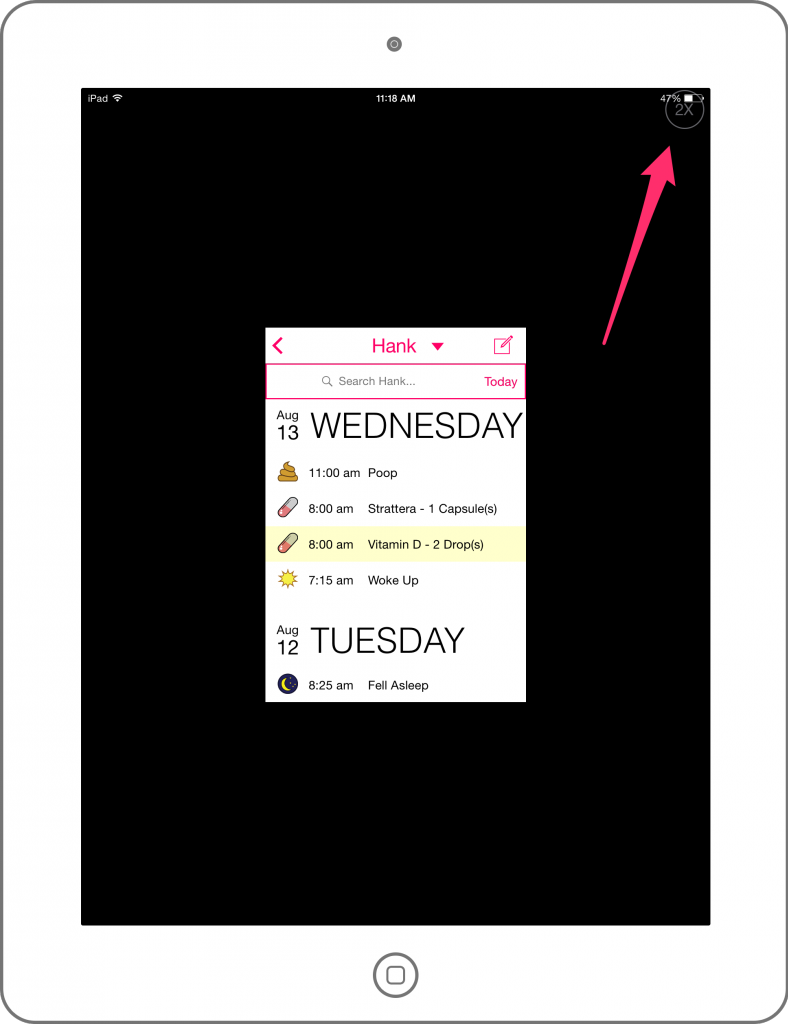 Step 5:

 Enjoy! Hope this helps. We'll have a dedicated iPad app at some point in our future, which we're very much looking forward to as well.